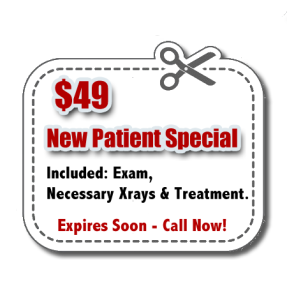 Encinitas Chiropractor – Welcome to Vahl Chiropractic Wellness Center located in Encinitas, CA 92024. We are here to help you get out of pain fast
&

explore a new level of Health

&

Wellness!
Most Insurance Accepted
-

  Low Cash Fees

 -

Same Day Appointment 

-

Call 760.479.0146 Today!

I welcome you to come in and try our chiropractic office located in Encinitas, CA 92024. We can effectively get you get you out of pain fast and get you back to your normal life as quick as possible! Give us a call today at 760-479-0146, and try our clinic with the $49 New Patient Special.

Our chiropractic clinic is conveniently located just off highway 5 in Encinitas, CA.  You will be happy to know that we have plenty of free parking and once you walk into our building, there is a beautiful waterfall bamboo garden to ease your stress levels and begin your healing.
When shoulder pain threatened to curtail my active lifestyle, Dr. Vahl was there to help get it back on track. After several sessions of manipulations, I am back to normal and feeling great.
Dr. Vahl was able to quickly assess the problem and provide an effective treatment plan. His manipulation skills were incredibly effective, and I felt great just after the first few visits.
Dr. Vahl has got to be one of the best Chiropractors around. I used to go to him in La Jolla, and now that he is even further from me in Encinitas, I still make that drive up there because it is worth it!
As a busy General Surgery Resident, I often have full body pains after a long day. Dr. Vahl efficiently diagnosis where my problems stem from and treats the source of my stress and fatigue, not just the symptom itself.
Carrying bodies had left me in pain from my cervical spine down to my lumbar spine…Dr Vahl put (me) back together again and optimized my performance ability so I could effectively treat my patients back home.